Keywords: taper roller bearing, Agricultural machinery bearing, angular contact ball bearings, spherical roller bearings, bearing seat units, deep groove ball bearings, cylindrical roller bearings
Around the world, the use of reliable, durable parts is a key factor in properly maintained agricultural machinery to harvest crops in time, regardless of the weather or the specifics of the crop.
Agricultural machinery mechanical bearing is an important basis of agricultural machinery and equipment parts and components, widely used in agricultural vehicles, tractors, diesel engine, motor, rake, baling machine, harvester, sheller and other agricultural machinery, its accuracy, performance, life and reliability of the accuracy, performance, life and reliability of the host plays a decisive role.
Agricultural machinery bearings must be able to run under challenging conditions, to adapt from dry, corrosive and abrasive environment to moisture, high pollution of the environment, long life, overloading conditions to be fulfilled are durable, so as to solve the farmers to reduce downtime and reduce maintenance costs, increase output as much as possible of tough challenges.
Agricultural machinery bearing characteristics
Can withstand continuous vibration and high impact load;
Careful and high precision seal design, to meet the weather conditions reliable operation;
Low maintenance or maintenance-free design;
Easy to install, can provide the whole unit;
The structure design is very simple;
Ensure the efficient utilization of machines
Agricultural machinery also there are many types of equipment, the use of situation and purpose is different, so using the bearing will be different, that is commonly used in agricultural machinery bearings are agricultural machinery bearings (round hole, square hole and hexagon hole, lock ring, reusable lubricating oil holes or nozzle), angular contact ball bearings, outer spherical bearings, needle roller bearings, tapered roller bearings, etc.
Tillage and seeding machinery
High humidity in spring and autumn is the true test of farming. The hard soil tests the ultimate strength of all mechanical parts, which requires a stronger bearing capacity of the bearing of the farming machinery.
Tilling machine bearings are usually integrated with a flange bearing housing to simplify assembly. If the plowed plate is connected with a bearing, it is installed on the plowing surface at a certain Angle, and the bearing needs to bear the transverse load, overturning moment and radial load.
The bearing unit comprises
Double row

angular contact ball bearings

, derived from the automotive hub bearing series – high load capacity, high roll stiffness, bilateral seal;
Corrosion protection machined bearing seat;
Threaded pin with positioning surface;
Anti-loose washer;
Products used in tillage machinery include external spherical ball bearings and bearing seat units, sealed deep groove ball bearings and angular contact ball bearings, tapered roller bearings, hexagonal and square inner bore bearings, as well as idler wheel units and chain drive idler wheel tooth units.
The tractor
Transmission bearing and assembly
Large radial and axial loads, cylindrical roller bearings without outer rings are especially suitable for planetary gearboxes.
Tapered roller bearings are suitable for hydraulic motors, hydraulic pumps, small bevel gear shaft support and rear axle drive integrated with the transmission.

Application in chassis
The outer ring belt applied to the hinge point of the spring end of the chassis front axle can only lubricate the joint bearing of the system;
Maintenance-free rod end key bearings applied to the front axle steering system with independent suspension;
Engine components and systems
Belt drive components for tractor engine applications, tension wheels and generator overpass pulley, pump and fan bearings and needle roller cage assemblies for connecting rod mechanisms.
Harvesting machinery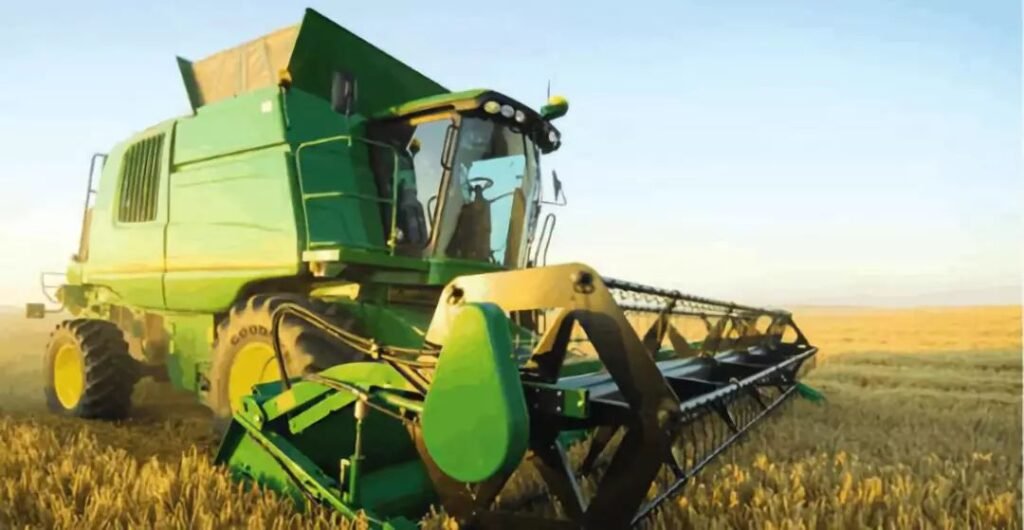 In agricultural engineering applications, there are seals wherever there are rolling bearings. A good seal has two important functions: to keep high-quality grease inside the bearing and to prevent pollutants and water from entering the bearing. Efficient sealing increases the service life of bearings, and also extends the working life of agricultural machinery.
The outer spherical ball bearing is mainly used for harvesting machinery in the field of agricultural machinery. The outer spherical ball bearing and the bearing seat unit are easy to install and can compensate for the misalignment of the shaft within a certain range.
So what types of bearings are used in our commonly used agricultural machinery?
Agricultural machinery bearing model list
| | |
| --- | --- |
| Mill | 6205RS, 6206RS, 6207RS, 6208RS, 6309RS |
| Rice polisher | 1206, 1207, 1308, 1310, 1312, 1213, 1217 |
| Corn thresher | 6201RS, 6203RS, 1203, 1204, 1205, 6205RS, 6206RS, 6305RS, 6307RS, 6308RS, UCP205, UCP206, UCP207 |
| Wheat planter | Hexagon socket 6204RS, square eye 6205RS |
| Drill | 6806-2 – rs and 6807-2 – rs |
| Corn planter | 6004 rs, 6204 rs |
| Grain depot conveyor | 6203RS, 6204RS, 6205RS, 6207RS, 6208RS, 6307RS, 6308RS |
| Worm gear reducer | 7207 (30207), 7208 (30208) |
| Rig gearbox | 42211, 42215, 42304, 42306, 42310, 42312 |